From their discovery, to their visitors, to their promoters , and especially to their inhabitants - These are "Las Islas Encantadas", "The Enchanted Islands". But while the Islands do, indeed, have their own special allure, they were originally considered enchanted in the sense of bewitched rather than blessed. Early navigators had great difficulty finding the islands. They are extremely isolated and a mixture of rapidly changing sea conditions, often poor visibility and vague charts made them almost impossible to find. Some swore they even moved.
The Islands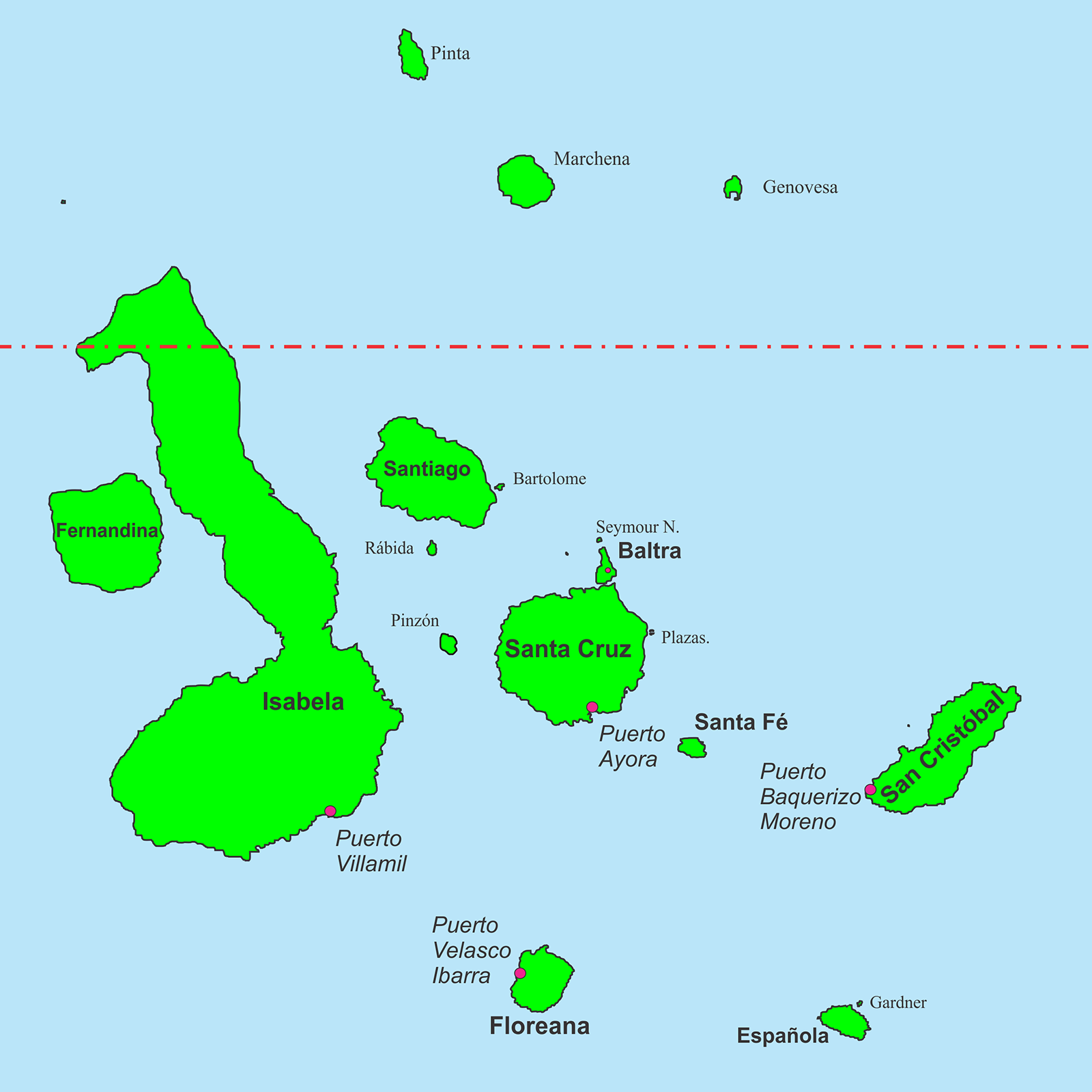 The Islands are 600 miles off the west coast of Ecuador. Our clocks are one hour behind the continent (GMT - 6.0 hrs). We do not do Daylight Savings.
There are 15 main islands, 3 smaller islands and numerous rocks and islets.
Five of the islands have human inhabitants:
San Cristóbal
Santa Cruz
Isabela
Floreana
Baltra (South Seymour)
The islands are further apart than many people realize. For example:
Puerto Baquerizo Moreno (San Cristóbal) to Puerto Ayora (Santa Cruz) is 80km \ 50mi.
Puerto Ayora (Santa Cruz) to Puerto Villamil (Isabela) is 85km \ 53mi
Puerto Baquerizo Moreno (San Cristóbal) to Puerto Villamil (Isabela) is 155km \ 96mi and requires 2 crossings (via Santa Cruz), a chartered boat, or a flight.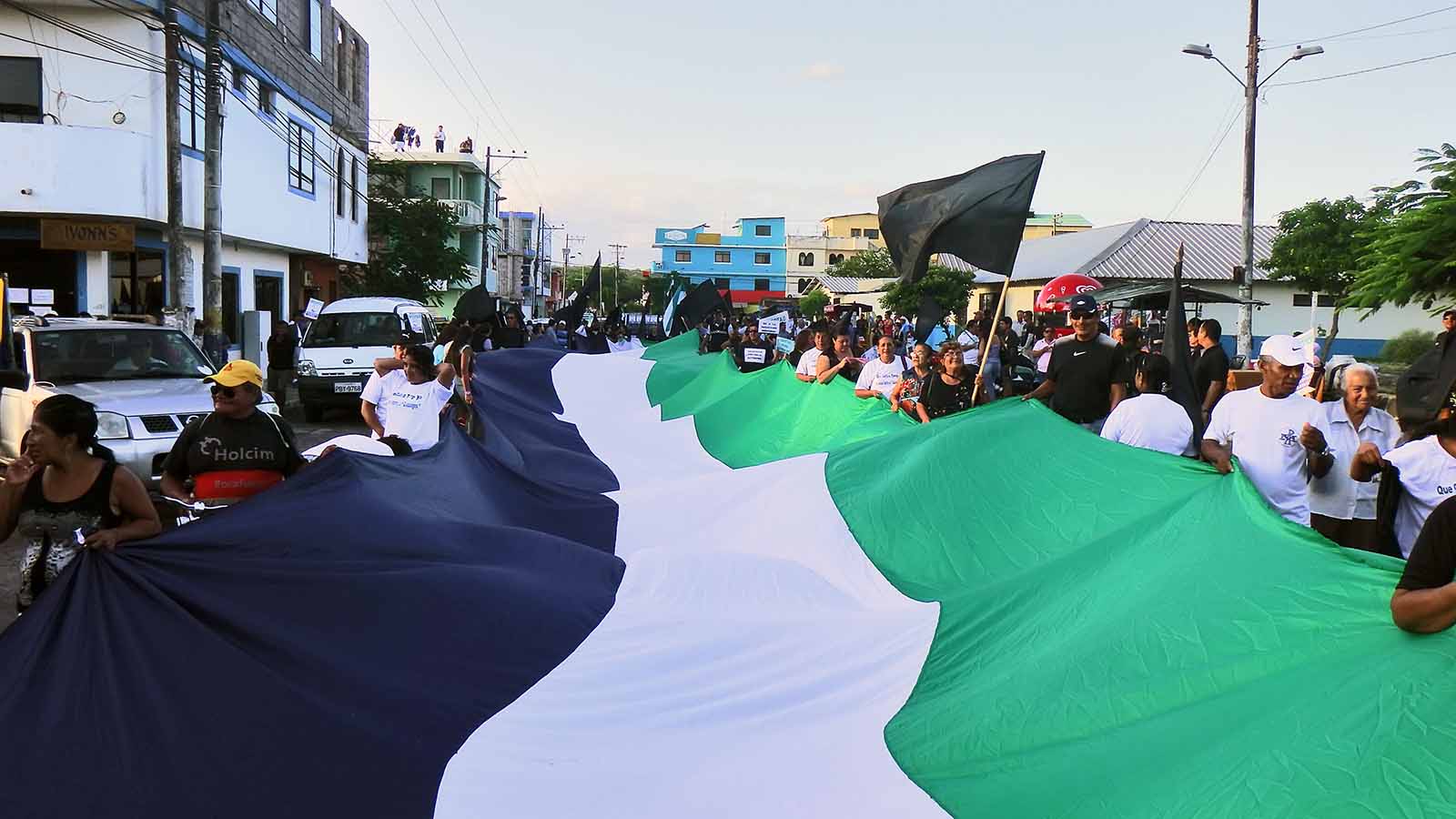 A Province of Ecuador
Galápagos is a semi-autonomous province of Ecuador, governed by special laws, most notably LOREG: Ley Organica del Regimen Especial de la Provincia de Galápagos
LOREG sets out special conditions for entering, staying, working, protecting the environment etc., including the right to own and develop property or business. The latter has been a particular source of strife as the islanders fight to protect the environment, their heritage, and livelihood from unscrupulous developers, sometimes aided and abetted by crooked politicians.
The photo on the left features the flag of Galápagos carried during the 2015 protests in San Cristóbal against exploitation of the islands and their population: in particular a luxury resort development at Punta Carola which we are still fighting, to this day.
The Galápagos Marine Reserve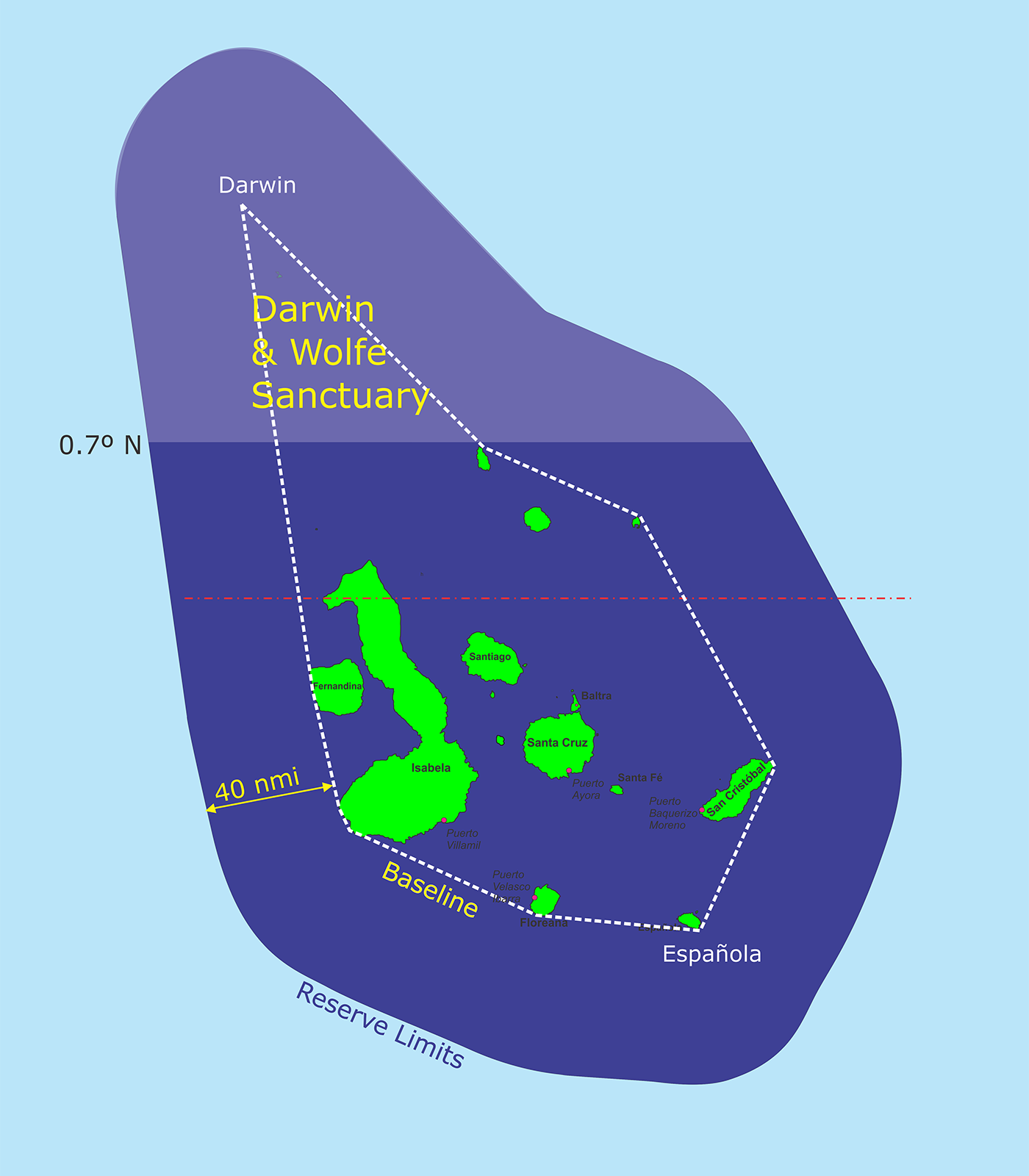 The Galápagos Marine Reserve, created in 1998, is one of the largest in the world, covering an area of 138,000 square kilometers. The boundary is defined by a 40 nautical mile extension beyond the baseline which connects the outermost limits of the archipelago.
Fishing within the Reserve is limited to resident fishermen in small local boats, subject to stringent regulations. Since 2016, even they are forbidden to fish north of parallel 0.7º, in the Darwin and Wolfe Marine Sanctuary.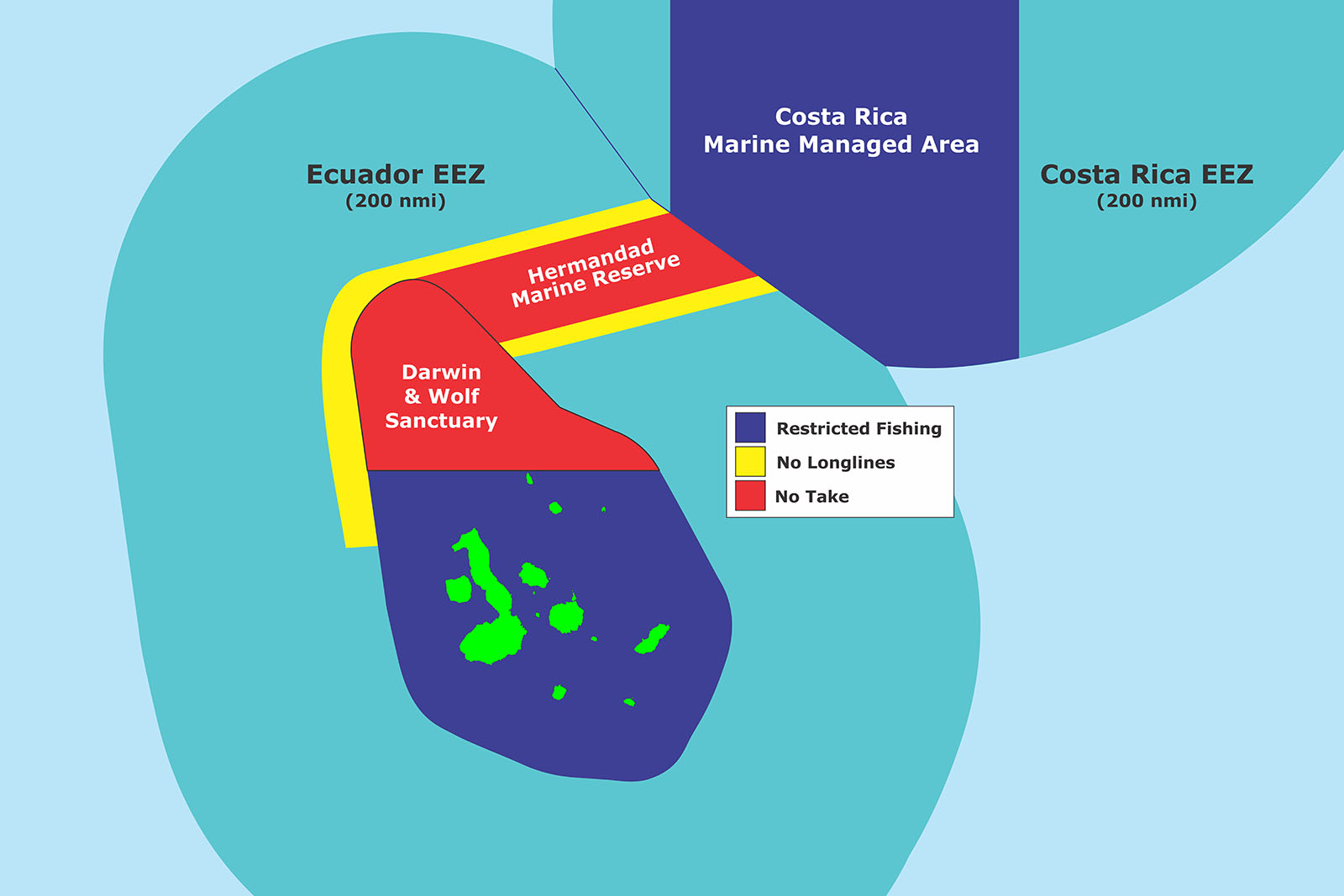 The Hermandad Marine Reserve Expansion
In January 2021, Ecuador created a new marine protected area dubbed Hermandad (Brotherhood), which comprises:
A 30,000 km2 no take corridor between the Darwin and Wolfe Sanctuary and Costa Rica's Marine Managed Area
An additional 30,000 km2 where longline fishing is forbidden. (Longline fishing is particularly prejudicial to endangered species such as shark and sea turtles.)
Hermandad is entirely within Ecuador's Economic Exclusion Zone (EEC), where only Ecuadorian boats would otherwise be allowed to fish.

Where You Can Go - Zoning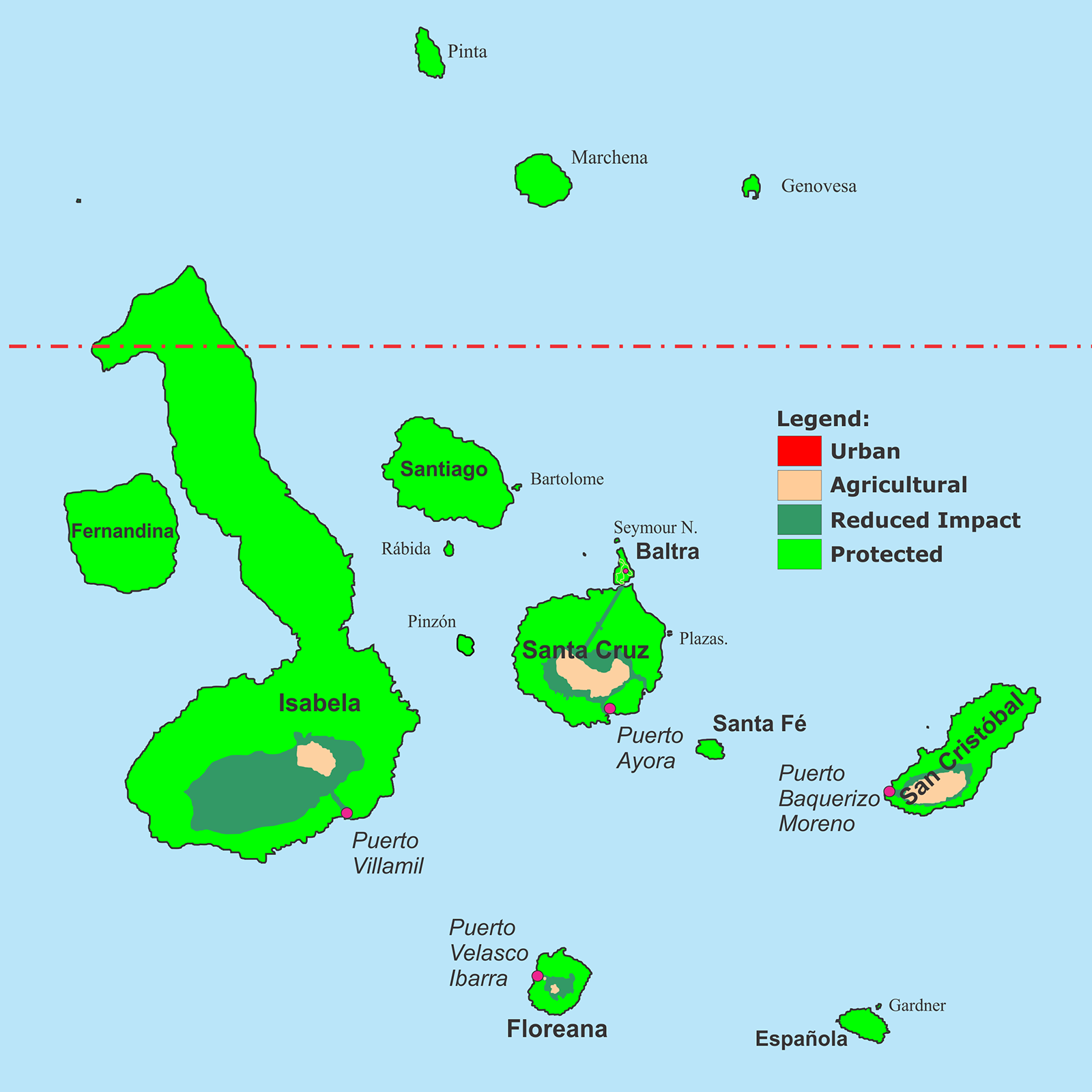 The Galápagos National Park occupies some 97% of the total land area of the islands.
Visitors can move freely in the Urban Areas and through access corridors (roads) in the Agricultural and Reduced Impact zones to access public use sites such as El Junco (San Cristóbal), Tortuga Bay (Santa Cruz), and Concha y Perla (Isabela). However, organized groups of 8 or more must still be accompanied by a Naturalist Guide.
In the Protected Areas, access is restricted to over 60 designated "Visit-Sites" in the company of a licensed Naturalist Guide - See Sightseeing.

Where You Can Stay
Other than live-aboard cruises, tourist accommodation is limited to 4 of the inhabited islands:
San Cristóbal
Santa Cruz
Isabela
Floreana
Most lodgings are in the urban zones with just a few in the Agricultural or Reduced Impact zones. Prices vary from $20, for a small but still decent room, to over $1,000 a night in one of the few "luxury hotels" or "Eco-Resorts".
The Ministry of Tourism categorizes establishments according to number of rooms and range of services offered. So even the finest guest house or bed and breakfast which offers more than 5 rooms but not full hotel services, such as 24 hour front desk and restaurant, is automatically classified as a "hostal" - Regardless of quality. This can be very misleading for travellers.
We are proud to operate an exceptional lodging of our own in San Cristóbal - The Galeodan Suites. And now, with the advent of easy online reservations, we no longer make reservations for travellers in other hotels - Unless as part of a touring or fishing package.
San Cristóbal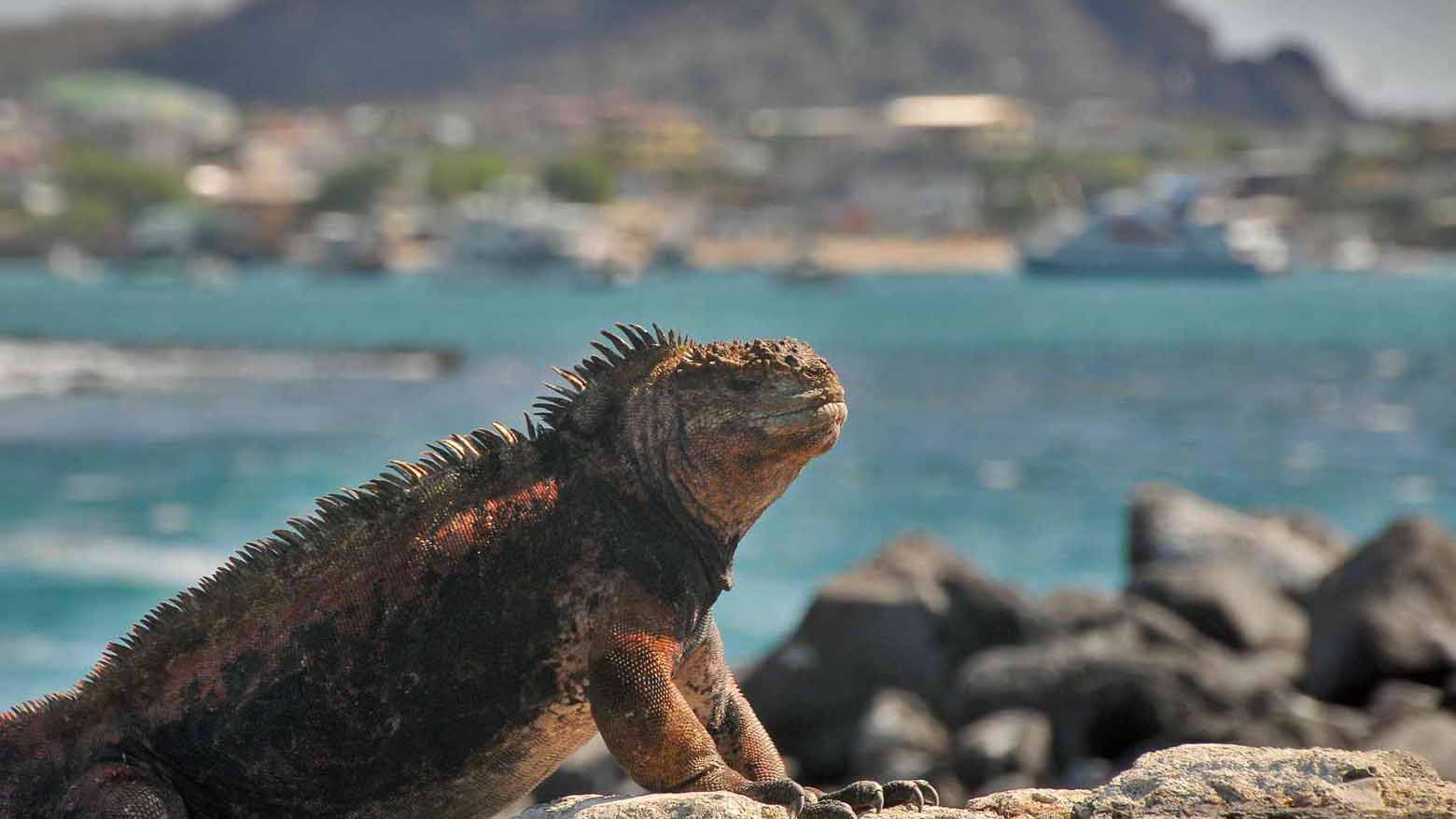 Puerto Baquerizo Moreno, the principal port of San Cristóbal, is also the provincial capital of Galápagos.
San Cristóbal, without argument, has the best fishing and surfing in all Galápagos, as well as Kicker Rock - The most spectacular dive site south of Darwin and Wolfe.
San Cristóbal is our favourite island and home base for our business and lodging: The Galeodan Suites (opens in a new tab).
Santa Cruz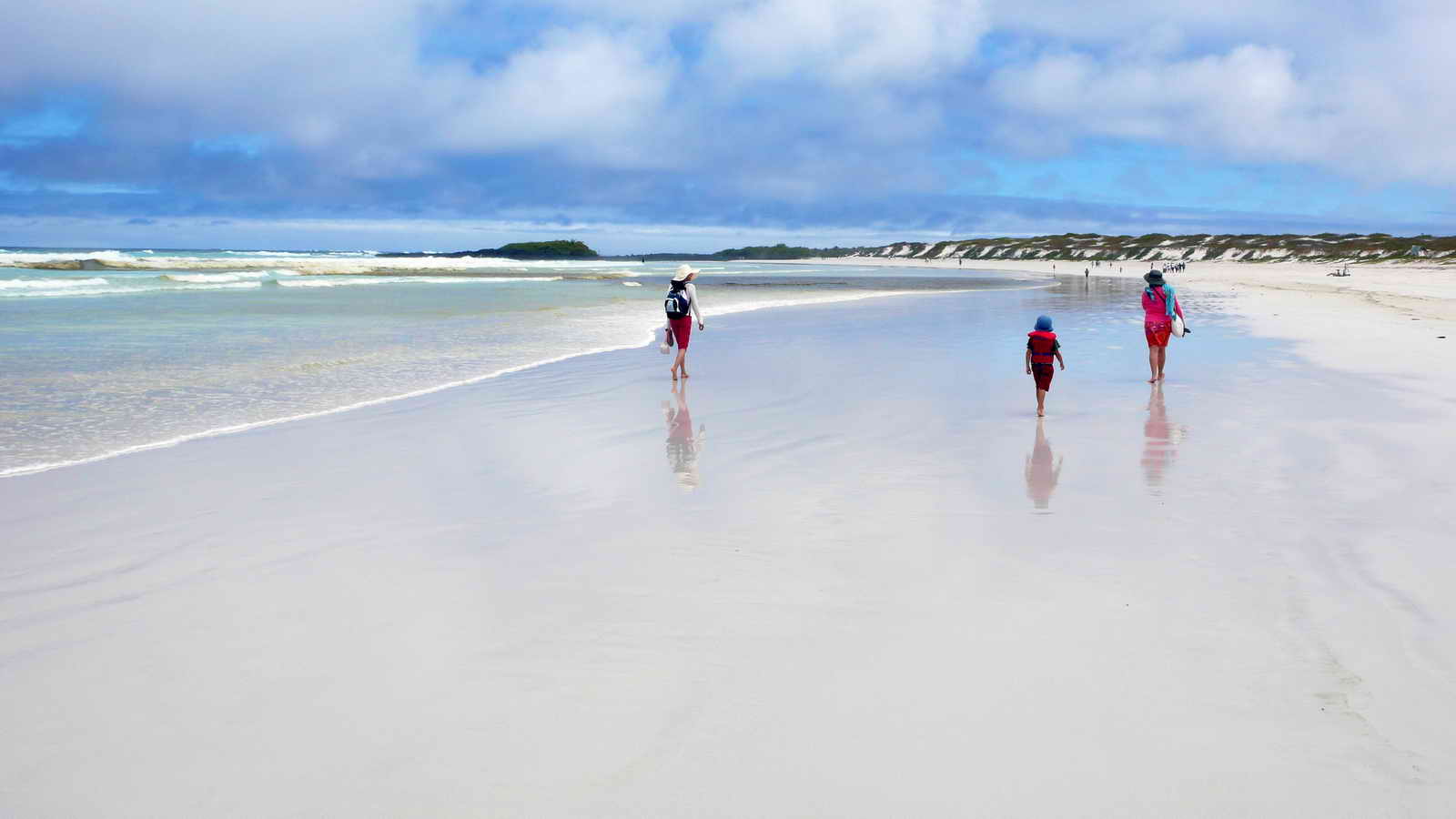 Puerto Ayora, on Santa Cruz, is the commercial and tourism centre of Galápagos, with more than double the population and tourists of San Cristóbal.
Santa Cruz's central location in the Galápagos archipelago makes it an ideal staging point for cruises and day-trips to nearby islands.
Santa Cruz also had the first airport in Galápagos, courtesy of the United States military base established in Baltra during the second world war. In 2019, Baltra was receiving up to 9 flights a day compared to 2 or 3 in San Cristóbal.
Isabela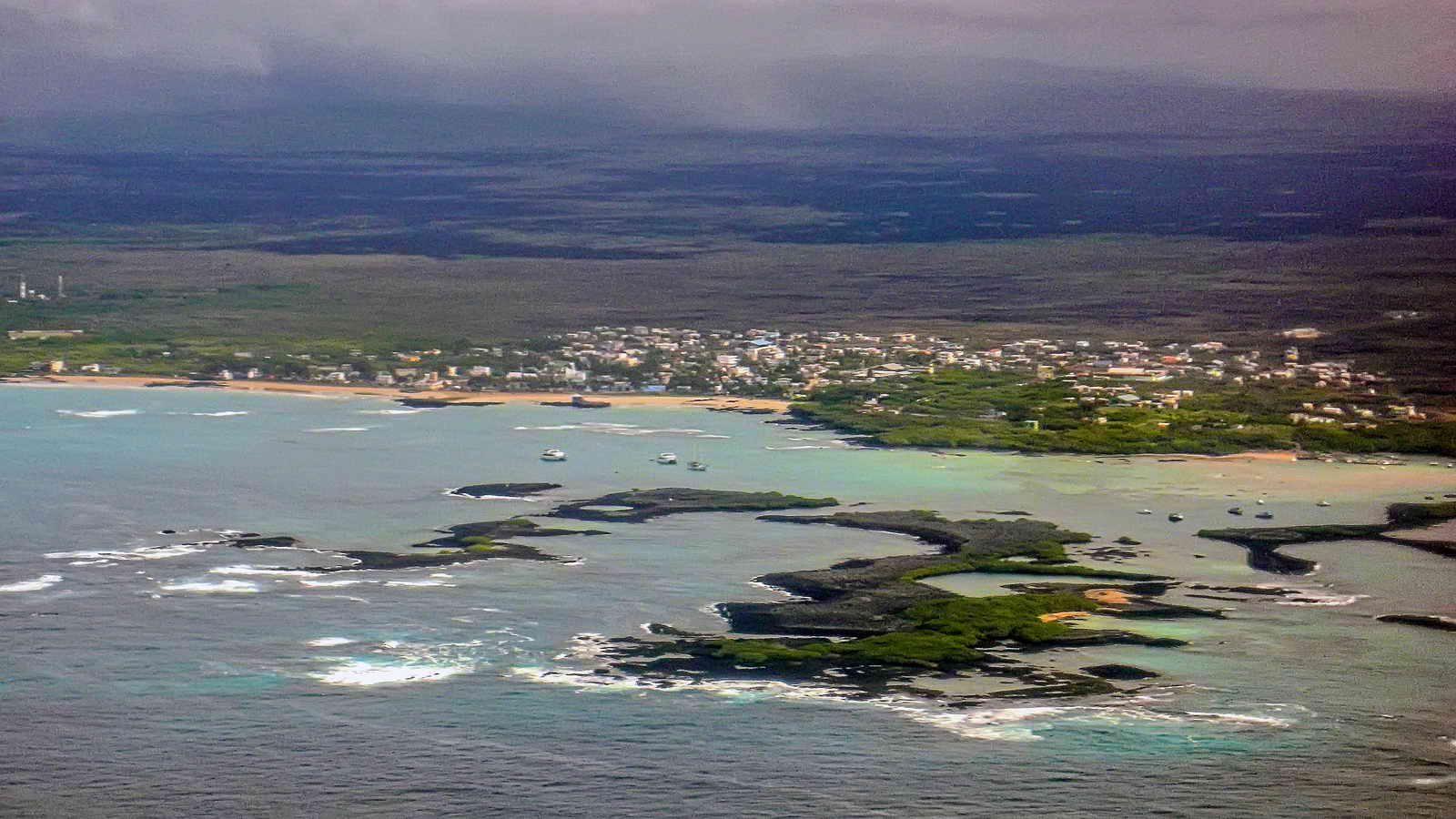 Puerto Villamil on Isabela is more isolated than San Cristóbal and Santa Cruz and can only be accessed by boat or island-hopper plane. The streets are mostly unpaved and there are limited services eg: a bank machine but no bank.
For those that appreciate the essence of Galápagos, what Isabela lacks in convenience is more than compensated by its gorgeous beach and relatively pristine condition, as well as some exceptional visit sites.
That said, visitors do not have to compromise on lodging as there are some excellent hotels and guesthouses.
Floreana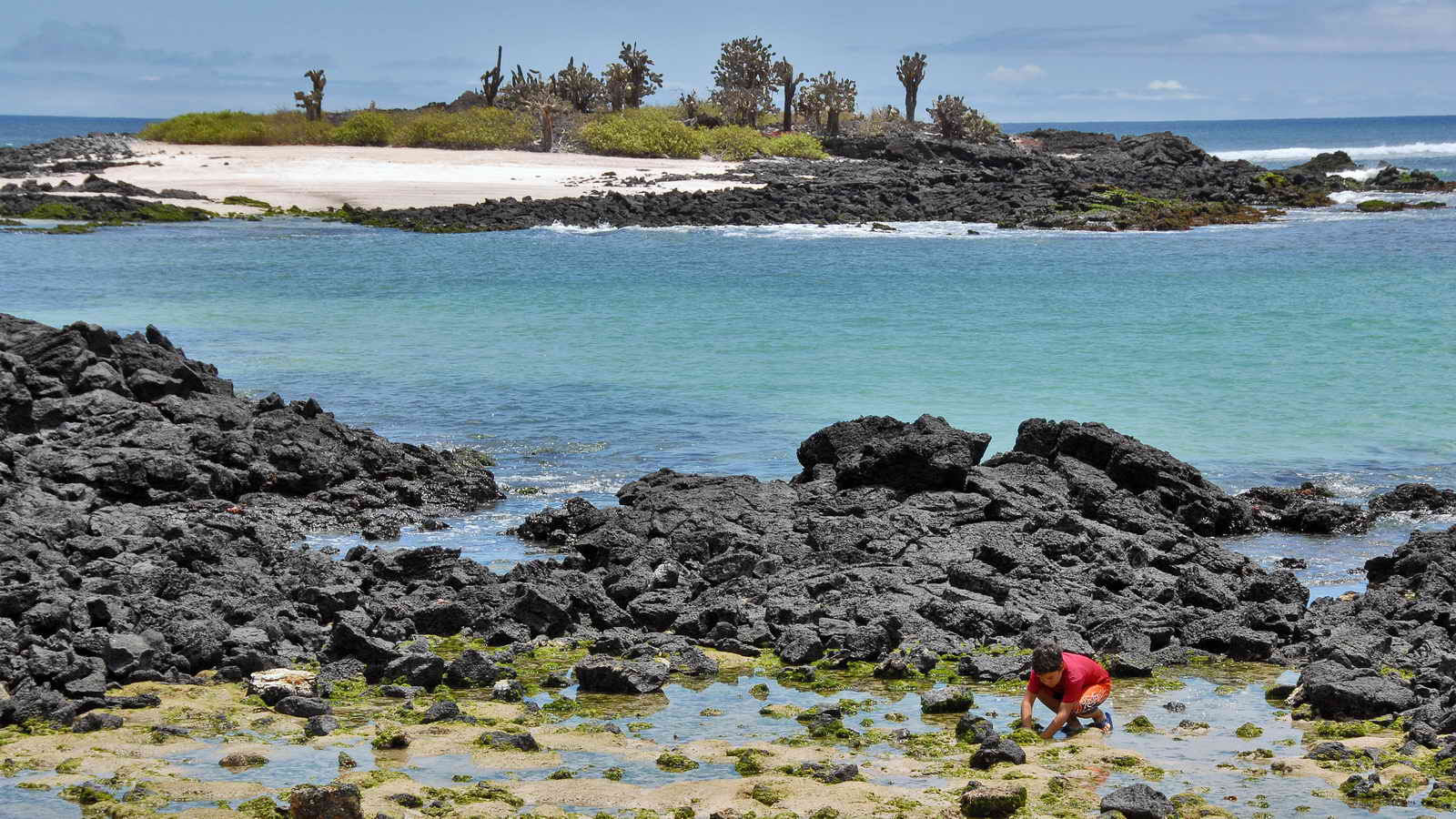 Puerto Velasco Ibarra, on Floreana, has a population of less than 200, is even further off the beaten path, and can only be reached by speedboat from Santa Cruz, or on a cruise.
You can take a day-trip from Santa Cruz, or take the regular speedboat if you want to stay overnight. The island is beautiful and unspoilt but lodging options are limited.
Floreana has several first class visit sites but the famous "Post Office" is only accessible from a cruise.
Climate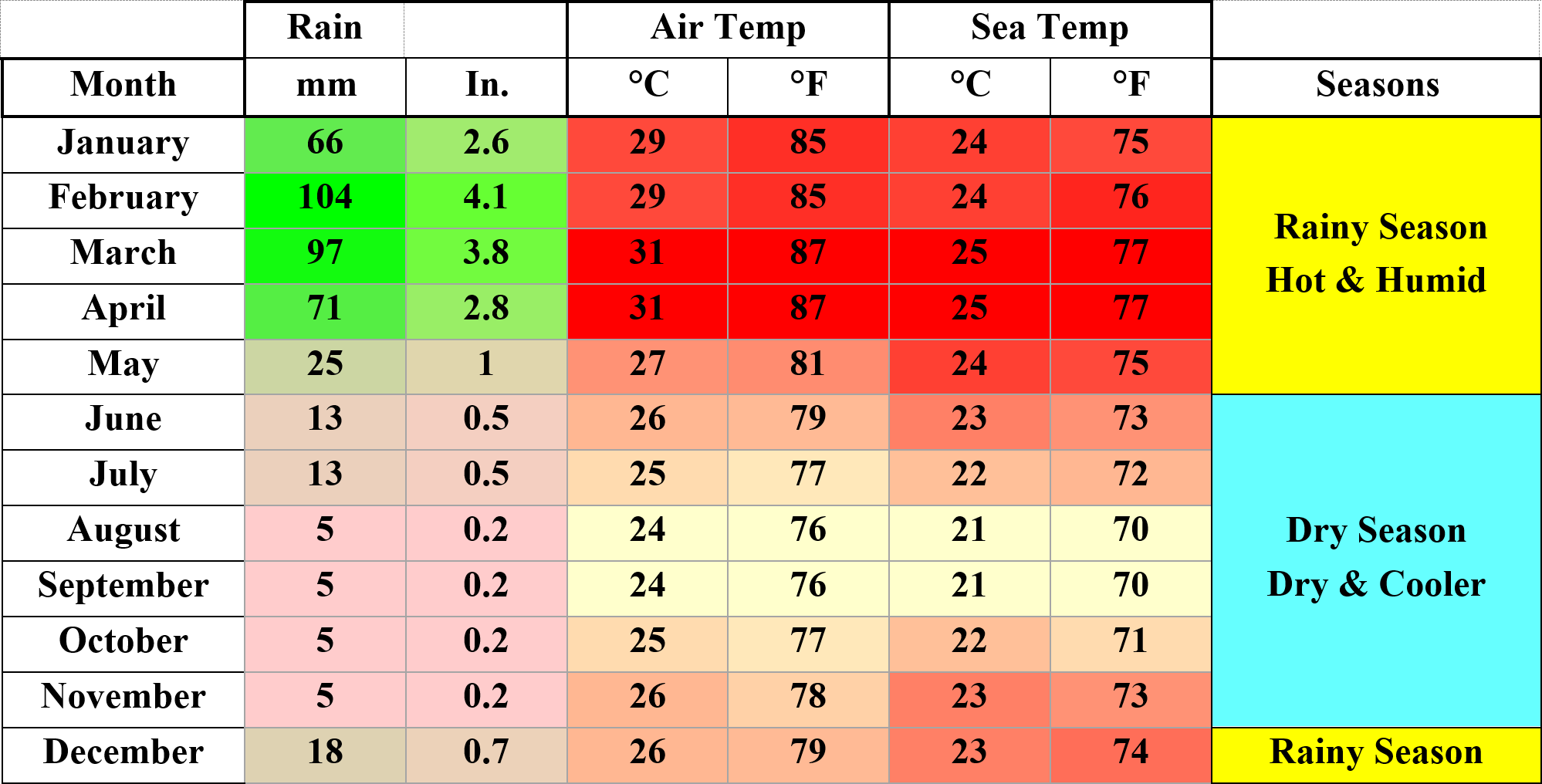 Wear Summer clothing: shorts and t-shirts or light pants and shirts for more protection from the sun. Bring along a light jacket for early morning and evenings. In the rainy season you may want it to be a rain-jacket. Bring comfortable walking shoes and/or well-secured sandals as some of the terrain can be quite challenging. You will definitely need a hat. The sombrero types will give better protection to its ears and neck.
Make sure you have plenty of sunblock, especially on boats where, even with a hat, you can get burned from the reflection of light off the water and deck.
Carry a water-bottle, even for short hikes as you can dehydrate rapidly.